"Permit me to introduce myself, the name is Mr. Kicks -
I dwell in the dark dominion way down by the River Styx.
The devil has sent me here because I'm full of wicked tricks
And I'm such a popular fellow among all you lunatics..."


It has only now come to my attention that, over the Memorial Day weekend, one of the coolest cats you may never have heard of passed away. Permit me to introduce...
Mr. Oscar Brown Jr.
A Chicago activist who accidentally became a musician, Oscar became known for the lyrics he penned to popular jazz instrumentals like Mongo Santamaria's "Afro Blue" and more notably, "Work Song" by Nat Adderly (a version made extremely well known by Nina Simone). His originals also became standards: "Signifyin' Monkey" was memorably recorded by Johnny Otis, Mahalia Jackson brought fame to "Brown Baby," and y'all have heard "Watermelon Man" at least a couple times in your lifetime.
His lyrics were pretty much always about politics and bein' black. He was a poet from the ghetto, and he wrote and sang about it with such style that he was thrown into NYC by his neighbor, Lorraine Hansberry, who wrote the play (and later film) "A Raisin in the Sun." Before that, Oscar had mainly been doing radio... Granted, it was the news and he was the first Negro newscaster doing a specialty program called "Negro Newsfront" which he sprinkled with poetry by the likes Langston Hughes. Once in New York, he started playing at the Village Vanguard and was noticed almost immediately by the Beat Kids. "But I Was Cool" and "Somebody Buy Me A Drink" were anthemic to that crowd, along with "Mr. Kicks." His clever word play and poetic raps made him a favorite, and he toured with the likes of Miles Davis, Aretha Franklin, and Coltrane. At the time, he was also a card carrying member of the Communist Party, which he would later give up because he was "to black to be red."
He wrote plays and music for theatre for years, and continued to release an album here or there. I was lucky enough to meet him back in 1996, and he was a well spoken, intelligent and extremely charming man. My friend and I practically swooned after we spoke with him for a few moments. He had appeared most recently on Russell Simmons' Def Poetry Jam (and had I known, I would have been GLUED to the set) and continued to contribute to scores of African American projects in television and film.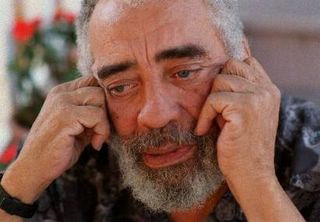 His finger snapping bravado conveyed the kind of intelligent swagger that the Rat Pack would adapt for comedy's sake years later.
Check out some of his tunes
and see if you don't enjoy his music also - he was a classic.