I was born and raised in Encinitas, California. That's in northern San Diego County, and all we did was play at the beach. Pretty much all of my friends surfed; in fact, my high school had (has) a surfing team who have remained champions.
The beaches back home are wonderful. When I relocated to the Bay Area, I missed those beaches a lot. I had one particular boyfriend, raised in LA, who used to take me to Stinson Beach and try to make me get in the water, but it was "too cold!" I'd complain. Not even the gorgeous shores of Santa Cruz could compare to home.
And then I went to Australia.
This is Coogee Beach in Sydney. Clean, wide shore... plenty of room for all... clear blue water... shark nets... Beautiful. There is also a walk along the beach and surrounding clifftops which link many miles of beaches, as well as roadside cafes, historical spots, and the amazing Waverly Cemetery. The sun bleached headstones against the blue sky and sea backdrop is astounding.
This is an old, old school cemetery, with lovely statues and crypts all along the grassy hillside. There isn't really the room to do this sort of thing anymore, so the Aussies are testing out a
new style of cemetery
near Melbourne, where they bury folks standing up, in body bags, in batches of 12 to 15 (people!) to minimize the cost. For those more environmentally friendly types.
Anyway, the walk ends at the famous Bondi Beach, which you may have seen on TV during the Sydney Olympics because the volleyball matches were held there. It's got cliffside pools and beach bums and surf rats (and the sharks) and patio bars and greasy food and all the lovely things one wants to find at a beach pit stop. A flip flops and bathingsuit kinda crowd, low key and hardcore.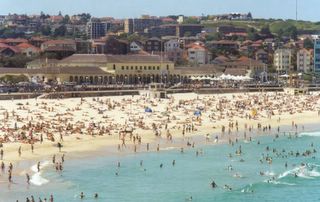 The beaches of Australia felt like home (Melbourne's were just as good). I've lived in LA for 4 years now, and have not been to the beach once. They're crowded, difficult to get to, and just have a whole different vibe about them than the beaches I had growing up. Hell, I used to ride my bike to the beach, play around, cross the street for a chimichanga and then cruise home. Australian beaches felt like that, inviting and comfortable, friendly and fun. And that's probably the biggest reason why I'll go back.