Over the weekend, I was able to take one of my dearest friends to one of our guiltiest pleasures: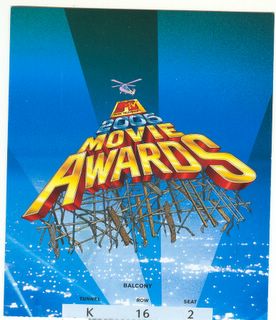 The show will actually air on Thursday, but I could tell you now who won everything. Actually, my memory is not that good, so I can't, really.
The event was held in the
Shrine Auditorium
on the USC campus, which is where they used to hold the Academy Awards. It's a beautiful theatre, with gorgeous Moroccan style deco flourishes and massive (and colorful!) chandelier hanging from what appeared to be a fabric ceiling. The seats, however, were built for teeny tiny little people, as I'm only about 5'5 and couldn't even put my legs down right in front of me. My friend is about 6 feet tall, and there was absolutely nowhere for her to go, except to cross one leg almost yoga style and hope she wouldn't lose all circulation.
Supposedly, people spend all their time at the bar at these events. Tapings (no, it won't be live) are a drag, with set changes and technical flubs and whatnot. We were there a good 3 and a half hours, and that's not how much you'll see. One of our friends was dancing (she was dressed as a superhero in orange with a big Afro)and was onstage the entire time, which was fun. We saw some itty bitty (and I mean that in size) celebrities, lots of teenagers dressed as if they were going to the sluttiest prom ever, some fun montages, and Eminem, Mariah Carey (I'm still trying to purge that one from my mind), Yellowcard and the Foo Fighters. (The Foo Fighters were apparently a last minute replacement for Nine Inch Nails, who withdrew from the show after MTV vetoed their backdrop, which was some sort of anti-Bush thing. Aye, juevos grandes, MTV!)
So as not to spoil anything, I'll just tell you my favorite parts of the evening:
-Some guy yelling to Ben Stiller, "You're hot!" And Ben Stiller going, "Oh hey, thank you."
-"The Breakfast Club" getting honored... I'm a child of the 80's; what can I say?
-Dustin Hoffman. Never thought I'd say that, actually.
-The Foo Fighters breaking into a spot on rendition of Van Halen's "Ain't Talkin' 'Bout Love" for about 30 seconds, then stopping so Dave Grohl could say, "Sorry you aren't going to hear that because the record label wants us to play something from the new album in order to promote the product."
-Ryan Gosling: DREAMIER THAN JAKE? I don't know, but he certainly got my panties in a twist with his little performance.
-And finally, when Lindsay Lohan hit the stage,she was sort of twittering and giggling her statement when some guy yelled, "Eat a hamburger!" She giggled the comment away.
Well, Jimmy Fallon was occasionally kinda funny. Tom Cruise: weird. Katie Holmes: weird. Nicole Kidman: tall. I wonder if they hung out together backstage? All in all, an okay time - thankfully I had very good company to while away the dull spots. And also, in a way, the evening was
dynamite
.
Well, that's your big clue in regards to the winners; now you don't need to watch.