As the squelchy boom boom of M.I.A.'s "Galang" started bouncing off the walls of the Echo last night, my friend leaned over to me and said, "Okay, can this replace that damn 'In Da Club' already?"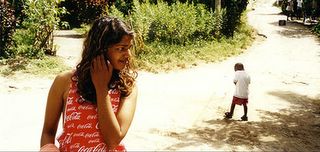 I got to see the hipsters' favorite daughter of a terrorist last night, with boyfriend Diplo on the wheels of steel/ sequencer/ whatever else they use to make up the music, and a cute b-girl back up singer. I had a lot of fun, as did most of the folks around me, and I'm happy to report that no one fell on top of anyone else in a drunken stupor (as reported earlier at the LCD Soundsystem show).
We knew she was coming on because the screen behind the bitty stage started acting up. Clips of a Bush & Blair press conference came on, with Blair continually getting interrupted by a slightly manipulated Bush repeating, "M.I.A." Of course, the crowd went nuts. Then she came out in a blaze of "Pull Up the People," and it was on.
The graphics running through the background were her 80's spray paint tag style, but animated. Helicopters and guns, faces and tigers, sprayed by this Sri Lankan civil war child straight outta London via New York. She presented everything you've heard: the third world girl, too smart for her poor surroundings, taken from her home with her family to escape the war (being fought by her Tamil Tiger father) to a shack in Madras, India and later to London, where racism made her tougher, where hip hop filled the street, where she got into art and hooked up with the likes of Justine from Elastica and Peaches. (
This interview
is especially great, and I stole their picture.)
She did all the hip hop hand waving and stage bouncing, but sang and shouted with a ferociousness that made my friend and I wonder if half the crowd knew how serious the whole thing was. M.I.A. has a very obvious agenda, but was anyone hearing it? "Semi-9 and snipered him... on that wall they posted him; They cornered him and then just murdered him..." or "Can I get control, do you like me vulnerable? I'm armed and I'm equal..." She's singing about either war or sex, it seems. And in such a style that if you played L'Trimm's "The Cars That Go Boom" right after any of her songs, it'd be an excellent segueway.
The story we got from the owner of the venue was that she wanted to do a headlining show in LA, and none were scheduled, so this got thrown together at the last minute. She played about an hour (including encore) and did most of the songs off the album (even the last "hidden" track), and was very gracious throughout the night. The cutest part was that she kept saying, "Hello Hollywood!" Which we weren't.
She especially seemed to enjoy saying "West Coast!" and throwing her arms in the air. I guess she knows the West Coast and East Coast have had some wars too, but she can teach us a thing about all that. So listen. AND dance.