Do you like Black Rebel Motorcycle Club? Do you want to see them play before they head off to the UK for a tour with the Brian Jonestown Massacre? Read on...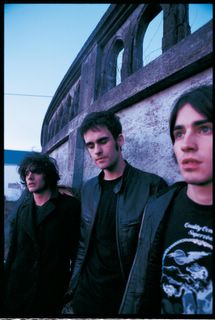 BRMC LIVE from the NEW Little Radio Warehouse - Saturday May 28
There will only be 200 tickets sold for this show. The tickets will go on sale Friday at 12PM from a secret location in Hollywood. An announcement will be made on Wednesday thru the Little Radio email list where these tickets will be sold. To sign up on that email list, just click on the blimp at the
Little Radio
website. Once these tickets are gone, there will be no more! NO TICKETS WILL BE SOLD AT THE DOOR!
The Little Radio kids work hard to keep music evil and fun in LA. I know, I was one of them for a while. Damn dayjob! I'd be at the show too if I wasn't already going out of town for a looooong weekend. So go check 'em out if you can, and tell me how it was. I'm betting: pretty great.