I am not a fashionista by any stretch of the word, but I can dress ok. I try to find fun pieces to accent things, and a couple of them are SO fun that people practically try to buy them off me when I wear them. I'm not joking. And now my friends are selling them, so y'all can leave me alone.
Guitar pick earrings
.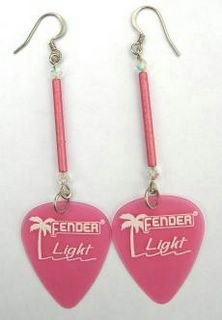 Evidently, these are pretty easy to make, but I'm lazy. A gal down the street has a handy little boutique (the wonderful
Pull My Daisy
) that sells these puppies pretty cheap, so I don't have to feel quite
as
lazy... Anytime I wear them, though, people get all ga-ga. And they're really light. Bonus!
Seat belt belts
.
The first one I had is just a simple gray with a Cadillac belt buckle, so I've always referred to it as the cadillac of belts. Ha, ha, I know... My next was a black belt with flames and a Ford Mustang clasp. And my next will be the airline style. Not like I need any trouble staying locked into my pants or anything. Anyway, you can special order them from another shop up the street, the kooky
Y Que
.
Rose rings
.
Women try to take these right off my fingers, I kid you not. A friend of mine started selling them recently, so I ordered 6 to show someone, because she wanted one. I met her in a little cafe, put the rings on the table, and within 5 minutes had sold ALL OF THEM to random women off the street. Oh, and my friend got hers. I used to buy these for about $8 a pop in SF, and I've seen them twice here in LA - for over $20. Dumb. Go to
my friend's site
and get 'em cheap - just know the ring size.
Now, let's go shopping!