My musical alphabet continues... And today we have reached M. The Misfits.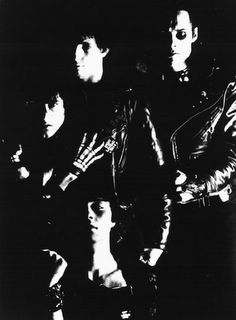 By the time these guys broke up, I was a freshman in high school. Which means my kid brother was eight. But it was my brother who got me into the Misfits, a few years later when I was in college. I had a boyfriend all throughout high school who was into the Dead Kennedys and the Circle Jerks and Social Distortion and the Toy Dolls and stuff like that, which I was okay with, but I was way more into Duran Duran and the Cure and OMD and that kind of trash (I use the term lovingly). So I kinda shied away from the punky stuff.
(Odd that later I'd allow myself to be happily crushed in Pixies throngs... but go figure.)
Anyway, I came home from college for a holiday break or something, and my brother was all up in my face about the Misfits. He made me a tape and forced me to listen to it. And I liked it. Now, these guys were really making my mother think that my brother was becoming the spawn of Satan (hell, that's basically all they sang about, all that horror business) and she was completely convinced that her little darling was going to become a serial killer or something. Who could blame her? Look at the guys. Zombie punk greasers singing about aliens and dead people. In case you're not familiar, here are some song titles: "Mommy, Can I Go Out and Kill Tonight?" "Die, Die My Darling," "Bloodfeast..." You get it.
I gotta tell you, I loved singing along. To me, they were like Sha Na Na on speed. "Last Caress" is a rad 50's song, and it's soooooo fun to sing to. (They even covered "Great Balls of Fire" and "This Magic Moment.") And I know I'm not the only one. I DJ out sometimes in Hollywood at a place called the Burgundy Room, and I (along with just about every other DJ there) know that if you play a Misfits tune, people go batshit. They shout every word. Eespecially if you play "Where Eagles Dare," which has the useless chorus: "I AIN'T NO GODDAMN SON OF A BITCH!" Watch the Pabst flow!
I could have written about some other M bands I like... Magnetic Fields, electronic artists Matmos, or another band that involuntarily makes me mosh - Mudhoney, but the Misfits... Well, y'all should have the "best of" album at least. I think I enjoy them more now than I did ten (or 15) years ago.
Besides, Danzig lives in my hood.