I love going to the movies, but it has been a tricky thing for me. Sometimes, it's hard to find the time for the event that is going to the movies. I could rent, but I'm not home enough, or don't necessarily want to rent on my own. I was spoiled by having had a boyfriend for about a zillion years who loved going to the movies, and renting them too. We'd watch just about anything, from 40's noir to current indie to musicals to silent films to seventies blockbusters.
So I'm finally getting out to the movies again, but I've already seen one of these films twice. And it's a documentary. And I happened to see it for the first time last November at the AFI fest, with my movie boyfriend (now an ex) while he was visiting from his current home in Germany. And then I happened to see it tonight with my gay best friend. And it's about a gay German guy.
Go figure.
The Nomi Song
is a bittersweet documentary about
Klaus Nomi
, the beyond avant performance artist who emerged on the New York scene in 1978. He came from Essen, Germany to New York City via Berlin. His debut in Ann Magnuson's new wave vaudeville show quickly led to packed club gigs all over the city, peaking with an
appearance
on Saturday Night Live
doing backup
(and makeup!) for David Bowie in 1979.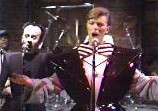 What was his schtick? He sang opera in falsetto to electronic music while dressed like an alien. Well, his interpretation of an alien, I suppose.
The documentary has some great archival footage of the time in NYC, as well as the fervor around such a bizarre little man (who was also quite the pastry chef, it seems). After the Bowie thing, he finally got his record contract. While he was a minor player on the American New Wave scene, he was - of course - huge in Europe. Especially in France.
And then he became one of AID's earliest known casualties, gone by 1983.
Sometimes I wonder if something as bizarre and imaginative and just plain weird as Klaus Nomi can ever happen again. Would it just freak people out? I mean, he played successful shows in Wisconsin, Illinois, Kansas... all over the country. I just can't imagine that flying today - I feel as if we've gone very backwards sometimes in this country.
I mean, would an opera singing disco homo in black and white makeup wearing a giant plastic tux fly in today's world? I hope so. That would be fabulous.