I am a music dork. Hence, the list for 2004. (Of stuff I listened to a lot that came out in 2004.) There was a whole bunch of good stuff last year, wasn't there? Or am I just an optimist? And there was so much I didn't get to hear, so much that I didn't know about, couldn't afford or wrangle, didn't have time or access to... Any suggestions gladly accepted. Especially in the funk & soul realm; I feel like I've really been missing out on that.
Anyway, since I have some things to share but don't want to spend the next year explaining why, I'll list the music I really enjoyed this year. One time, a friend of mine said that all music reviews could basically be summarized as thus: "Like the bastard lovechild of (so & so) and (so & so) in (name of place) on (altering substance)." I'm gonna give that a go. With a comment or two, I'm sure.
15.
RJD2
-
Since We Last Spoke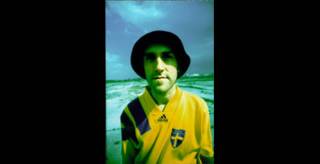 "Like the bastard lovechild of DJ Shadow and the Blackbyrds in Brooklyn on Valium." Funky and mostly mellow instrumental hip hop, super groovy.
14.
The Concretes
-
s/t
"Like the bastard lovechild of the Velvet Underground w/Nico and Mazzy Star in Sweden on Heroin." Twee drug indie jams. Nice.
13.
Rogue Wave
-
Out of the Shadow
"Like the bastard lovechild of The Shins and The Byrds in California on Sunshine." Pretty pretty.
12.
Soda & His Million Piece Band
-
s/t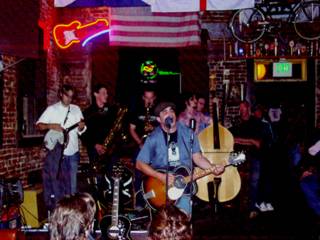 "Like the bastard lovechild of the Jon Spencer Blues Explosion and Tom Waits in Sin City, shitfaced via Jack Daniels." Or Morphine and ZZ Top, I couldn't decide which. Rowdiness ensues.
11.
Komeda
-
Kokomemedada
"Like the bastard lovechild of Siouxsie Sioux and Astrud Gilberto in Stockholm on Red Bull." Not as go-go pop as they've been, more biting lyrically while still twinkly... I even liked the guy songs this time out. Moody.
10.
50 Foot Wave
-
s/t EP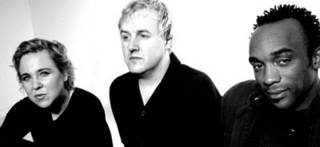 "Like the bastard lovechild of Throwing Muses (ha ha) and Metallica in Chicago on Speed." When you can hear the words - classic Hersh. A wall of sonics, that's what they're all about.
9.
Actionslacks
-
Full Upright Position
"Like the bastard lovechild of Sebadoh and Wilco in San Francisco on Chomsky." The Gary Numan-esque "Close To Tears" is so beautiful it made me cry. Tim's wry lyrics are always the crux of this band's music for me, and the fact that they rock helps too.
8.
Neko Case
-
The Tigers Have Spoken
"Like the bastard lovechild of Patsy Cline and Liz Phair in Nashville on PBR." I don't understand why the country world doesn't love Neko, because her voice is an instant classic of the genre. Opry snobs don't like her indie past - their loss. She's intelligent and clever and has a voice that cannot be matched these days. Great to sing along to in the shower - bonus!
7.
Loretta Lynn
-
Van Lear Rose
"Like the bastard lovechild of Loretta Lynn and Jack White in Butcher Holler on the God's Honest Truth." I cried three times when I first listened to this record - Loretta doesn't lie. Her warmth and talent just reach out and touch.
6.
TV On the Radio
-
Desperate Youth, Blood Thirsty Babes
"Like the bastard lovechild of Coil and a barbershop quartet in outer space on acid." They sound like nothing else, and in a good way. It's appropriate to me that they've done a well received cover of the Pixies' "Mr. Grieves," because these guys are just as out there and unclassifiable as the Pixies were in their day. An intense and interesting outing, comfortable and scary all at once.
5.
The Arcade Fire
-
Funeral
"Like the bastard lovechild of the Talking Heads and the 3-Ds in Auckland high on life." It's all just so bittersweet, this record. It's fun but sad at the same time, orchestral and simple, joyous and mournful. There is a purity you don't sense much these days. (And you know that "Wake Up" sounds just like "Hittsville UK" by the Clash, at least that second part of it, right?)
4.
Iron & Wine
-
Our Endless Numbered Days
"Like the bastard lovechild of CSNY and Palace in Savannah, Georgia (or Sodom?)... living on Memories." I suspect this guy may bore some people to tears, with his beautifully quiet tales of love and youth and intimacy and heartbreak and all that, his soft little 1970's AM radio voice, but I love him. Despite the beard.
3.
Nick Cave and the Bad Seeds
-
Abbatoir Blues/ The Lyre of Orpheus
"Like the bastard lovechild of Scott Walker and Marlene Dietrich in Berlin on Religion." I'd kinda written Nick off, after all those bombastic balladeer type albums. But this was a thunderous and clever wake up call that Nick ain't gone, and TWO albums worth of great material? Who does he think he is, Stephen Merritt? I kid, I kid... Enthusiastic goth, ironic calypso, rollicking rock and painful ballads abound. I'd call it a comeback.
2.
The Delays
-
Faded Seaside Glamour
"Like the bastard lovechild of the La's and the Cocteau Twins in Brighton Beach on Earl Grey Tea." It's sweet and catchy and beautiful and yes, the singer is a GUY. Doing his best Liz Frasier when she started singing actual
words
. Once I got over that misconception (like finding out Dusty Springfield was white), I completely fell in love with this record. Because sometimes you just like to have something really pretty and clean around, you know?
1.
Interpol
-
Antics
"Like the bastard lovechild of Joy Division and Mission of Burma in New York City on Absinthe." I actually like this record better than the first. There, I said it. I think it's because Paul sings more. Or they sound tighter, more like a cohesive band rather than arty shy guys apprehensively creating songs. More like a fully developed self. (I know one other person who agrees with me, and I'm ok with that.) So, Rosemary, why can't we just look the other way?
There ya go. There were other things that hovered around the list which I really enjoyed too: Rick Stone's "Turn Me On, Turn Me Out" is lovely guitar electronica with sexy vocals. Mark Lanegan returned with
his
sexy vocals too - growling and rocking back to life (and away from the folksy stuff which has immersed him) with his new CD "Bubblegum." The beauty of the final Elliott Smith offering "From A Basement on a Hill" and dreamy indie pop of Earlimart's "Tremble & Tremble..." The super kool collection of original David Holmes tracks and groovy 60's Italian and French tracks on the "Ocean's Twelve" soundtrack... The Secret Machines album really demonstrates what happens if you listen to equal amount Echo & the Bunnymen and Pink Floyd, and it works... Oh! Franz Ferdinand's self titled debut was super fun - the best update I've heard on the smooth post Roxy Music era dandies so far, even though I could name most of the tracks they flat out ripped off. The Scissor Sisters debut was a very guilty pleasure, showing the world what Elton John may have sounded like if he was a really out trashy dance queen during the years he was actually putting out
good
music. Kasabian's self titled first effort was a spirited romp in a post Happy Mondays vein... Brian Wilson's bizarre pop symphony "Smile," the just aggressive enough moodswings on "Bows & Arrows" from the Walkmen... Camera Obscura's "Underachievers Please Try Harder" did for me what Belle & Sebastian haven't done for years... Junior Boy's electro pop on "Last Exit," and the roar of PJ Harvey on "Uh Huh Her" reminding everyone that she is, and always has been, quite a force.
And I liked that "Yeah!" song by Usher. Come on! Who hasn't been in the club with their homies when Shorty got down and said come & get me? Word.